Regular price
Sale price
$16.00
Unit price
per
---
12oz bag, whole bean. Roasted to order.
---
Bright floral, with malt and hints of grain

View full details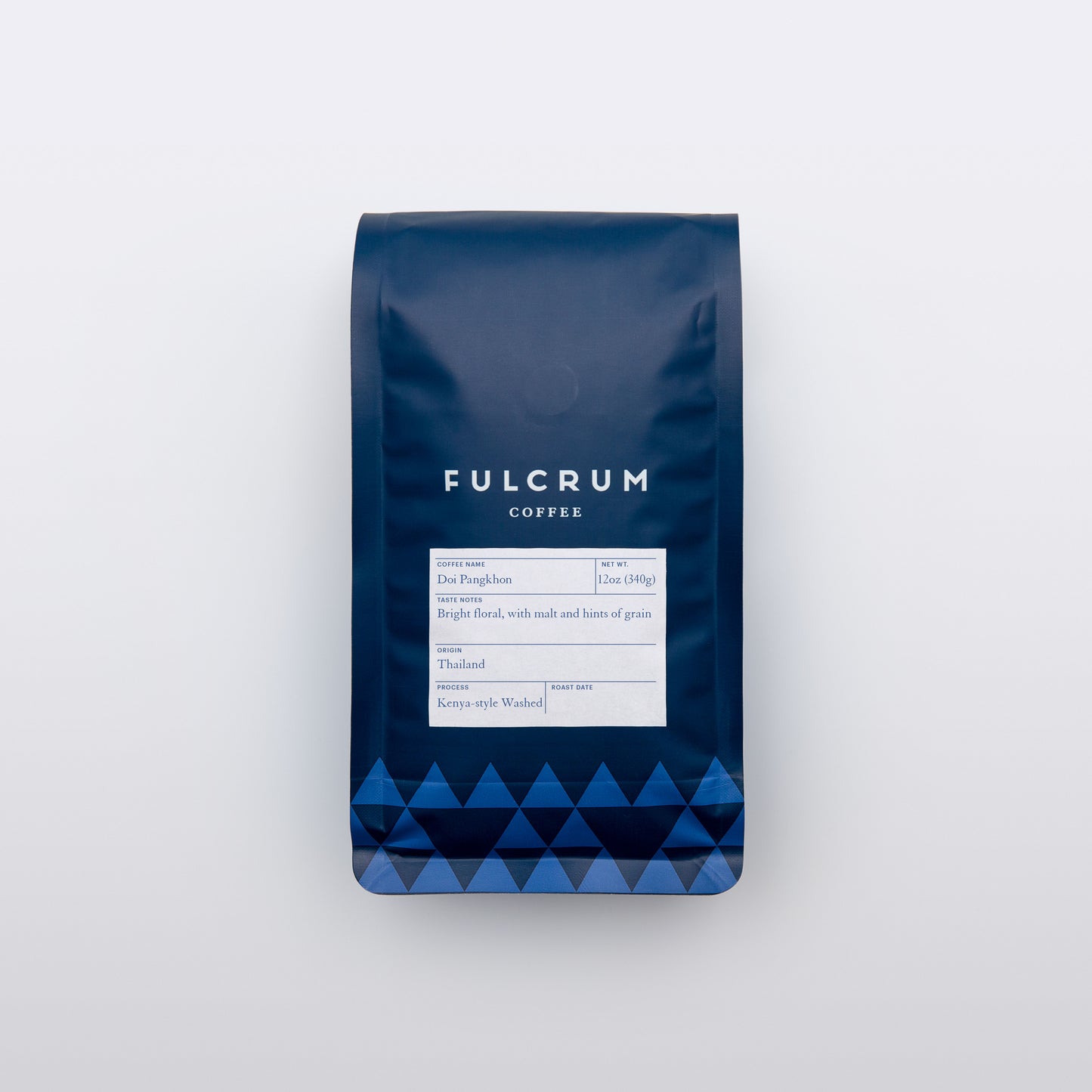 Merlaeku Family x Beanspire
Variety: Catuai, Typica, Chiang Mai, SJ133
Region: Doi Pangkhon, Chiang Rai
Altitude: 1250 m
Process: Kenya-style Washed
Tasting Notes: Bright floral, with malt and hints of grain
The Region & Mill

Doi Saket Pangkhon comes from coffee producers in the Chiang Rai region in Thailand. This is the most northern region of Thailand, only 19 degrees north of the equator and with an elevation of 1,250 - 1,450 meters above sea level. The varietals that grow here are a mixture of Catuai, Typica, Chiang Mai & SJ133.
This single origin is provided by Beanspire Coffee. Beanspire Coffee has been working with small coffee producers in Thailand since 2015. As the process designer, dry miller and exporter of this coffee, they are meticulous about investing in their mill year after year. In 2017/2018 Beanspire first invested in a wet mill in Doi Pangkhon, operated by the Merlaeku brothers, and have continued to improve the mill each season. The improvements include updating the mill's pulping machines, improving workflows, leasing new space for drying, and more. As a result of these advancements, Beanspire increased their production by 20% in the 2021-2022 harvest.

The Beanspire Mill is one of the most advanced in Thailand, with many new technologies and tools for sorting and quality assurance. Jane and Fuadi, co-founders, have built Beanspire on the basis of quality and uniformity, an important element in the single origin market.

The Process

This single origin went through a Kenya-styled Washed process at the wet mill in Doi Pangkhon. This is a spin-off of the double fermentation Washed process common throughout Kenya. Cherries are first pulped before being fermented with out water, then moving to a wet fermentation method, before drying on raised beds for at least 14 days. They believe this process has produced a more complex coffee and are considering making this method their standards moving forward.

The Kenya-style washed process is a processing method commonly used in Kenya and is known for producing clean, crisp, and consistent coffee.